GREAT THINGS ARE DONE WHEN BOYS AND MOUNTAINS MEET
Pubblicato in Events il 17/02/2020
Report from the fourth Malossi Camp which took place in Crevacol (AO) on 1 and 2 February 2020
To tell what participating in Malossi camp means there is only one way: to ask those who have already been there … and even after many days, it is difficult to dispose of the adrenaline and enthusiasm accumulated in that beautiful weekend.
We are in Crevacol, in the Aosta Valley in a dreamlike scenery: snow, pristine mountains, wild nature, an icy slope, and 30 guys ready to experience the most epic weekend ever, the weekend they will never forget.
I hope I can say a thousand more times: we did it.
Yes, I'm talking about the fourth weekend I organized in partnership with Malossi, the dream for any kid with jets in his wallet. Those lively boys, who stand out and prefer to spend Saturday nights in the garage playing with mufflers, rather than going to the disco to spend some money on a high. It is rare to find them, it is beautiful to bring them together in a project called Malossi Camp.
I've organized it as if I were a participant, and this makes me sure of the result since I know what the guys want. This time we ended up in a beautiful and remote place, in the Aosta Valley at almost 2000 meters above sea level. The forecasts were very "Norwegian", with boys and gas valves freezing at the bottom of the straight. On the contrary, we found ourselves with an "ideal" temperature … which made everything even wilder, with head-trauma-snow-balls. A spectacular ice rink, with wonderful holes in which they would find you at the thaw…
Once again the boys were really happy. Spiked tires everywhere and young guys helping each other. I am probably still full of energy the camp transmits for a few weeks, despite it being over; so it is difficult for me to throw all these feelings into a text. Fortunately, there is a very cool video showing you what happened on 1 and 2 February 2020!
[embedyt] https://www.youtube.com/watch?v=kJfcmotY8RQ[/embedyt]
The Malossi camp is nothing more than a super meeting of friends who have never met yet. It's nice to see that after a few minutes meeting each other, they are in confidence and ready to quarrel and make peace for trivial things like a 13 key lent thrown into the river… Wild, free-range and genuine. So are the "campers": not the vehicles… but the Malossi camp participants!
There are so many others guys we still have to know, guys who have stories to tell about mopeds and peeled knees.
Follow the Malossi official channels to find out when the next Camp will be!
Henry Favre, the guy who does strange things and plays with engines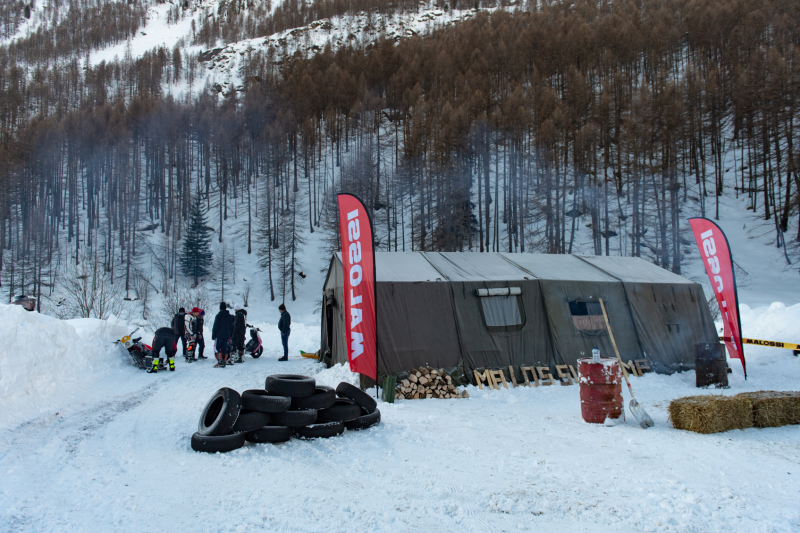 What can I say about the Malossi camp? It's an opportunity to go back in time for a weekend, to meet new friends throughout Italy, to have fun with old scooters that our grandparents no longer use, to go home in the evening with a still-charged mobile, but above all, an unforgettable experience.
I discovered Malossi camp this summer when I first saw Henry Favre on the Malossi YouTube channel telling his story and his incredible experiences with old scooters. Needless to say, I was amazed and enchanted by his person, I discovered Malossi camp and within 15 minutes I was already signed up.
Contrary to expectations, the best camp part, besides running on the track or winning many prizes, was meeting new fantastic people who are willing to help you when you break your moped, to collaborate in a group to win team games and to sleep with perfect strangers because we are all united by the same burning passion.
Malossi camp is a story to tell anyone because let me say that: how cool are you telling your friends you are going to Valle d'Aosta riding on an icy track with an old Piaggio Ciao with studded tires?!?
Carlo Prada, known as Trento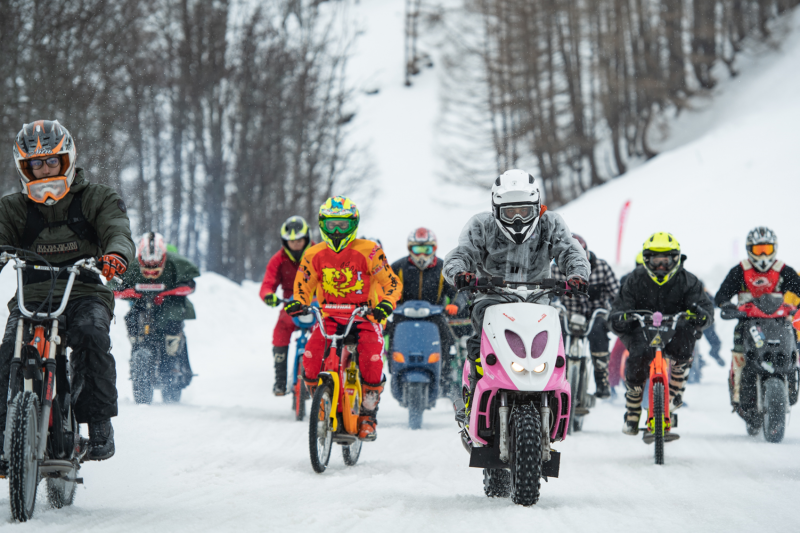 I learned about the Malossi camp through Malossi's Instagram account, where I saw the summer camp application post. As soon as I saw it, I had a great curiosity about this project… I went there and it was a wonderful experience! So when Henry announced the winter camp, I immediately applied and was lucky enough to be chosen.
The place where the camp took place, covered in snow and isolated from the rest of the world, a place to be on our own with our rusty engines, was the most beautiful thing. On Sunday the organizers proposed a challenge: whoever reached the top of the mountain first would have won a carter. I initially didn't even want to participate in this race because I believed I couldn't do it, but then I realized I was there to have fun so I decided to participate… and I won! It was a beautiful experience, a weekend to remember despite the extreme weather conditions. I really thank everyone: Henry, Malossi, the old and the new friends. The camp showed me that everything is possible: just believe it!
Gabriele De Franceschi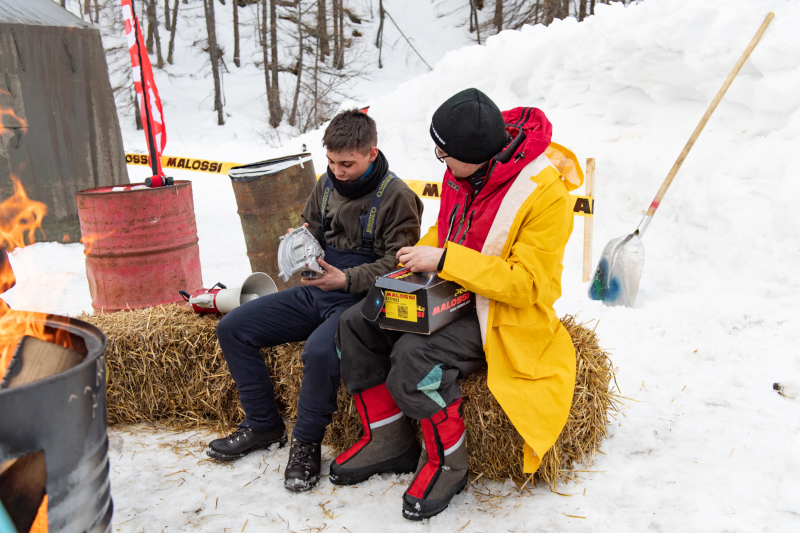 I learned about the Malossi Camp about a year and a half ago, scrolling through the Malossi Facebook page. After looking around the profile for a while, I read about a new "project": it was the first Malossi Camp in Cervesina. Many afternoons, after school, I find myself in mud and dung heaps with old scooters, competing with my friends to whoever breaks it first; in Malossi Camp, I immediately saw the same spirit that animates my afternoons: I knew it would be an unforgettable experience, so I decided to apply for this year's Winter Camp. Without even knowing how, in a moment, I found myself in the snow, 300 km away from home, with a rotten motor and new sparkling components to assemble. If I think back to this weekend I am not able to choose a particular moment to describe it: everything was so unexpectedly perfect that I can't choose… The most beautiful thing I will always remember is the feeling we felt, the friendship we created and the strength of the bond that united us: that's our shared passion.
Matteo Torsiello